ISO 17025 & Z540-1 accreditation scope + ISO 9001 Certification
The Accura Calibration is accredited to ISO 17025 and ANSI/NCSL Z540-1, and our Quality Management System is certified to ISO 9001. All services are traceable to the National Institute of Standards and Technology (N.I.S.T).
DOWNLOAD ISO 17025, ANSI Z540.1 & ANSI Z540.3 CERTIFICATE OF ACCREDITATION & SCOPE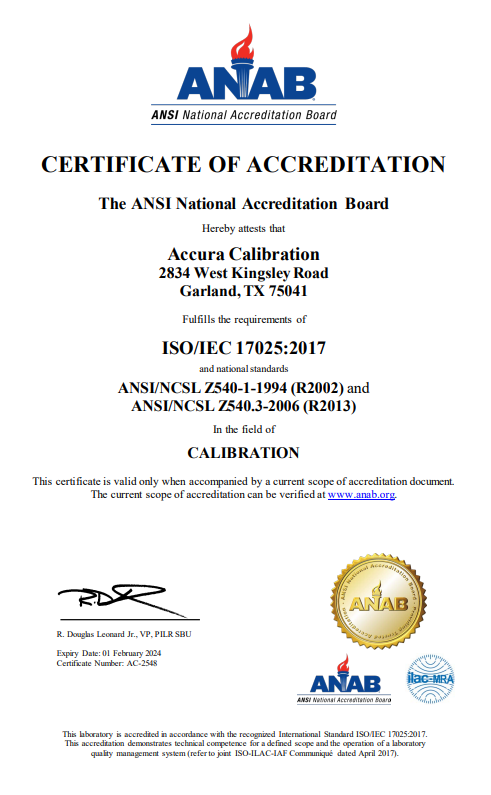 Our Services
Accura Calibration specializes in NIST Traceable RF Microwave and Electrical Calibration services, but we can also do a wide variety of Temperature and Physical Dimensional tools. Click here for a copy of our capabilities list
If you do not see your equipment here, please contact us at hello@accuracal.com or 972-278-7878 to find out if we can service your equipment. We can also outsource equipment to help you streamline calibration services.
Ask about free pick up and delivery, as well as Onsite calibration at your location (for an additional fee).
Locations include: Onsite Calibration Dallas, Onsite Calibration Garland, Onsite Calibration Plano, Onsite Calibration Richardson, Onsite Calibration Addison, Onsite Calibration Irving, Onsite Calibration Arlington, Onsite Calibration Fort Worth, Onsite Calibration Rockwall, Onsite Calibration Mesquite, Onsite Calibration Grand Prairie, and Onsite Calibration Carrollton, as well as other locations outside the metroplex.